Sri Lanka hopes to fill its skies with Google's Loon balloons.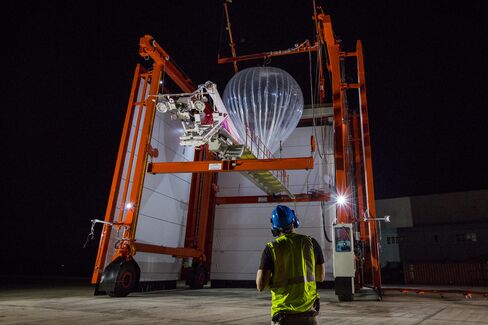 Google's Loon balloon
Sri Lanka has enjoyed an era of strong economic growth since its bloody, 26-year civil war ended in 2009. To keep it going, the government is trying to make the island nation a technology hub. It's investing in new undersea Internet cables, putting money behind startups, and working with Microsoft to embrace cloud computing. It's also been wooing Google and Facebook to host tests for some of their most ambitious experiments, from self-driving cars to drones. First up: the balloons.
Google's Project Loon is an effort to develop high-altitude balloons that can bring Internet connectivity to remote areas. The technology has been tested over the past couple of years, but not at scale. Rama, a quasi--public company controlled by venture capitalist Chamath Palihapitiya and the Sri Lankan government, aims to do just that. Google sent the first Loon balloon above Sri Lanka in February, and the government says it's working with the company to blanket the country with coverage from another dozen.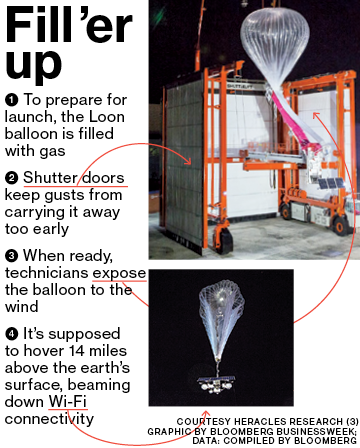 Within a year, Palihapitiya says, Loon balloons will turn the Indian Ocean country, which is about the size of West Virginia, into one big Wi-Fi zone, giving Google the first real sense of whether Loon can be commercially viable. "This is really a profound thing the government has sponsored and is really pushing," says Palihapitiya, an early Facebook employee who runs Silicon Valley venture firm Social Capital. "If we can do this in Sri Lanka, that sets the tone for the rest of the world."
Under a deal Palihapitiya negotiated, Google is leading the Loon launches, development, and maintenance, and Rama will run the software to control access to the balloons' Internet connections and handle billing. People will still pay local operators for data, and carriers will pay Rama an as-yet-undisclosed fee to help ferry traffic.
The Loon fleet could offer a cheaper alternative to undersea Internet cables, which pass through the regional choke points of Singapore and Hong Kong. Carriers in developing Asian and South American nations pay more than 10 times the bandwidth prices their European and U.S. counterparts do, researcher TeleGeography estimates. (The median wholesale price for a monthly 10-gigabit-per-second connection in Los Angeles or Frankfurt is $1; in Mumbai, it's $15.) Sri Lanka's data use is growing 45 percent a year and will likely do so for the next decade, the United Nations estimates.
Increasing the country's bandwidth is crucial to achieving President Maithripala Sirisena's goal of propelling the nation into the ranks of developed economies through technology. The average Internet speed available to the country's broadband customers is about 5.1 megabits per second, Akamai Technologies estimates—better than in India (2.5 Mbps) or China (3.7 Mbps), but a fraction of the average speed in the U.S. (11.7 Mbps), Singapore (12.5 Mbps), or Hong Kong (15.8 Mbps). Rama "is bringing universal connectivity to the whole country," says Muhunthan Canagey, the head of Sri Lanka's Information and Communication Technology Agency.
The Rama project began a little more than a year ago, when the president met with Palihapitiya. "I said to them that if they created a mandate for Internet access and making it a right, they would be the first country to do it," recalls the 39-year-old venture capitalist, who emigrated with his family from Sri Lanka to Canada in 1983, at the height of the civil war. "I had very close relationships with the team at Google, and so we were able to get that team interested in providing Loon technology to the country."
If the Wi-Fi-beaming model works, Rama could also partner with Facebook's Wi-Fi drone program or with satellite providers, Palihapitiya says. "If we can solve this in Sri Lanka, then we can solve it in the Philippines, Vietnam."
Following the first Loon launch, local news outlets flashed photos of what looked like the wreckage of a balloon near the capital, Colombo. A spokeswoman for Google parent company Alphabet said that was a planned landing following a successful test. Google has disclosed few details about Loon, except to say it's working with carriers around the world. (It's also testing the balloons in Indonesia and working to bring them to India.)
No matter how many balloons are in the air, Sri Lanka will still likely need fiber-optic connections to handle growing Internet demand, says Rohan Samarajiva, chair of technology infrastructure think tank Lirne Asia and a former director of Sri Lanka's telecom regulator. Loon is "a rather unusual solution and has got potential," he says, but it's "an unproven technology we should look at with reasonable and realistic expectations."
Canagey, the government official, is less equivocal. "This is the way the world is going," he says. "We have to evolve in the way the technology is evolving."
The bottom line: Rama's partnership with Google could give Sri Lanka another way to boost its ever more precious Internet bandwidth.